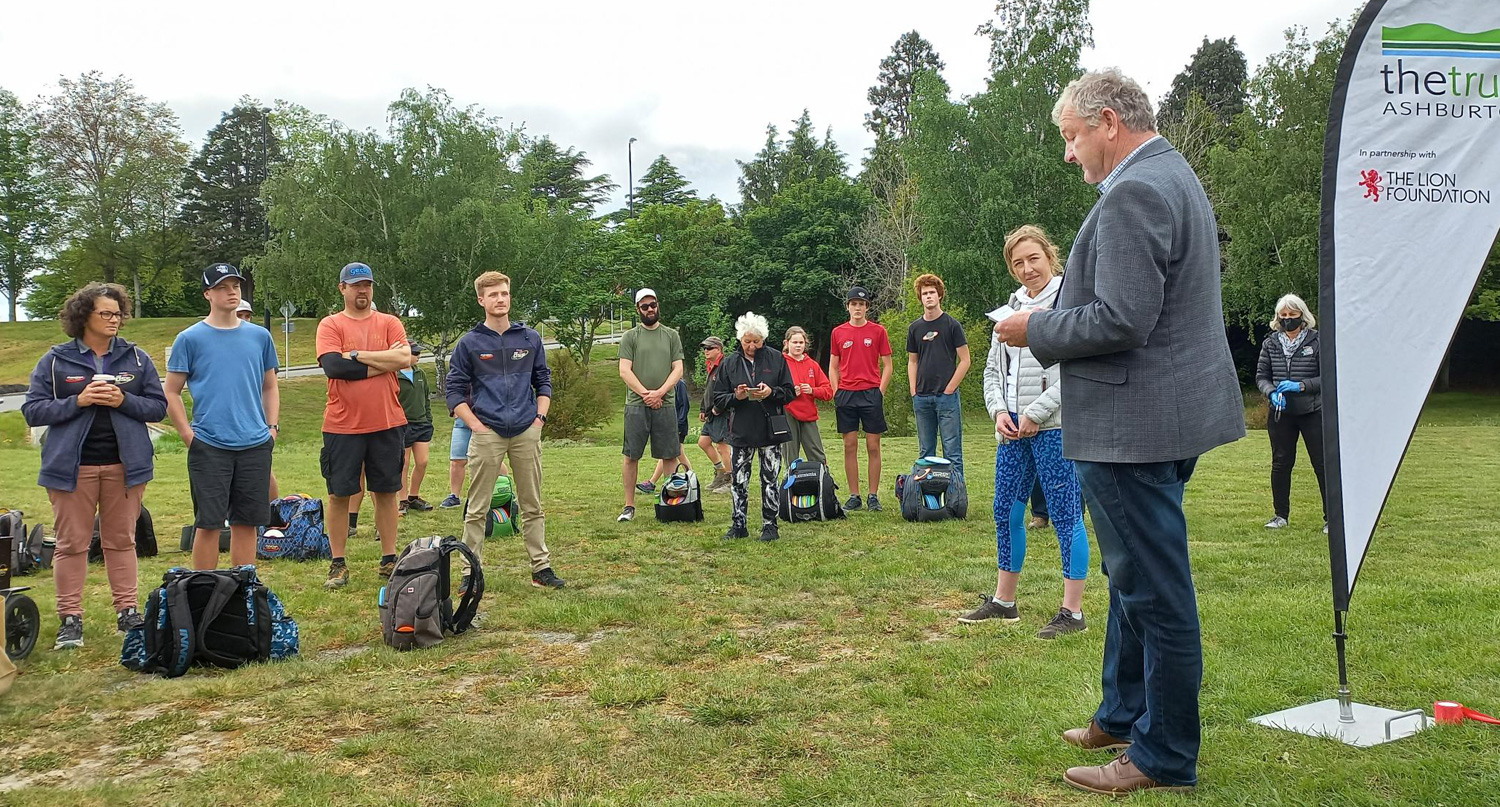 Ashburton's first disc golf course is now open
The opening weekend of the new Ashburton disc golf course saw 110 full rounds completed and a big smile on the face of course organizer Polly Hill.
Ms Hill and Ashburton District Mayor Neil Brown cut the ribbon to declare the course open on Saturday in a formal opening ceremony attended by around 70 people.
Mayor Brown had the honor of making the first shot of disc golf, hopefully throwing the disc to the first basket on the 18-hole course, which is on the Smallbone Drive reserve near the EA Networks center.
"It was great fun and the course will be a great asset to our community. The fact that 110 full rounds were played on the opening weekend shows an interest.
"Polly pitched her idea, leveraged council and community funds, and made it possible. We appreciate his contributions to this community.
Ms. Hill worked as a lawyer in Ashburton and is an avid disc golf player. She saw the value of a course for the city.
Disc golf is played like regular golf, except that there is no club or ball, just a disc (like a Frisbee) that players throw and aim for a basket.
The course is free and the discs are available for rent from the EA Networks Center or for purchase. Course maps and rules are also available.
Installation of the course involved local contractor Paveco Ashburton who laid small concrete slabs for the tees and baskets. New Zealand Disc Sport Supplies also helped by providing the baskets and facilitating the course design. Brita Safety assisted with the signage. Other sponsors included the Ashburton Lion Foundation, Ashburton Lions Club, Ashburton Rotary, RMF Silva, Miter 10 and Greg Marchand.
The course was designed to start at the EA Networks Center parking lot and holes were placed around the Smallbone Drive reserve, taking advantage of the natural configuration of the ground and the treeline. Safety is important, so the direction of play is away from the neighboring road.
The director of the council's community services group, Steve Fabish, said it was great to see the course well used on the opening weekend.
"We see it as a natural complement to the EA Networks Center and hope it's something that will encourage people to get out and be active. It's fun for people of all ages and abilities.
"This is a great example of the community working with the council, local businesses and funders to deliver a connect and play activity."