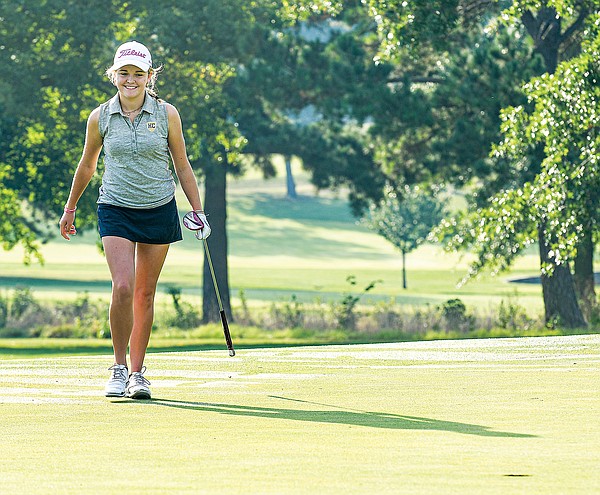 Helias girls golf is ready to go
The Helias Lady Crusaders have cleared their first hurdle of the golf season.
"For the first two weeks they were telling me they were nervous watching them play," Helias coach Jay Higgins said as the Lady Crusaders prepared for today's opening triangle today with Mexico and Palmyra at Oak Hills Golf Center. "I told them, 'Get used to it, because I'm still going to watch you play.
"Last week. I asked them if they were still nervous, they just laughed. We're getting to know each other, it's going to be great this season.
Higgins, who is the boys' head coach at Helias, helped the women's team the past three years in the playoffs before taking over as the girls' coach this season.
"I know most of the girls, it was great fun helping out with that," he said.
The Lady Crusaders are coming off fourth in Class 2 last season. They will go to class 3 this year.
"We want a full team to declare and that's possible," Higgins said. "I know there are a lot of good teams in Class 3, but we think we can play with them."
Sophia Hinds, a junior, finished 15th in the state last season.
"She's a really good golfer, I've known her for years," Higgins said.
Molly Case, a sophomore, finished tied for 44th in the state as a freshman.
"You could see last season how talented Molly is and she will continue to improve," Higgins said.
Kate Boyer is the only eldest in Helias.
"She hits the ball really well," Higgins said.
Adalyn Bayer is one of four juniors on Helias' 12-man roster.
"She's a really good ball-striker," Higgins said. "She has talent, it's just a matter of assembly."
Flynn Hamilton, a sophomore, has competition experience.
"She's played in a lot of tournaments and she's a fun golfer to watch," Higgins said.
Higgins said there will be competition all season for some varsity roster spots.
"We have a lot of depth," he said. "We don't want to cut anyone, especially first-year and second-year who can only get better. Participating in tournaments will be new for some of them, but it will be a good experience.
Helias will play his first tournament of the season on Wednesday traveling to Camdenton for the Lady Laker Invitational at Lake Valley Golf Club.
Other tournaments on the schedule this season include the Lady Crusader Invitational, Jefferson City Classic, Bolivar Invitational and Sedalia Smith-Cotton Classic.
"We have a good tournament group," Higgins said. "It will prepare our kids for the playoffs."
Helias is in Class 3 of District 3 this season, made up mostly of schools in Southwestern Missouri. The reception course has not been determined.
The Class 3 State Tournament will be held Oct. 17-18 at Columbia Country Club.