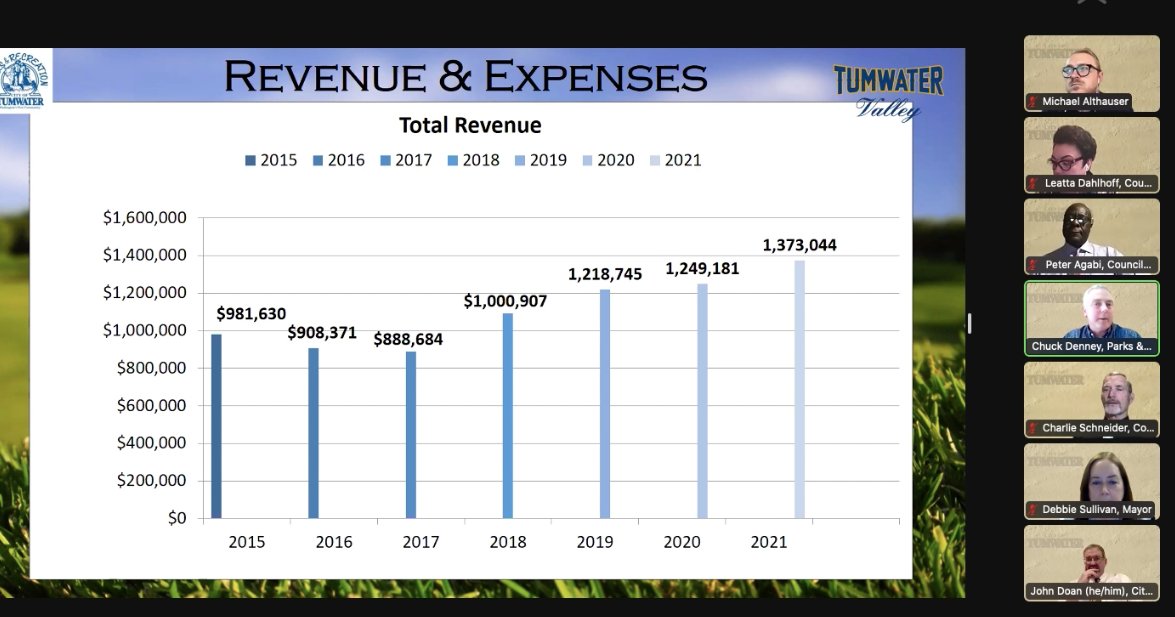 Is Tumwater Golf Course still worth the cost?
By JC Medina
Tumwater City Council has discussed whether the city-owned Tumwater Valley Golf Course still deserves funding amid its reported net loss over the past decade.
During the Council business session on Tuesday, January 25, Parks and Recreation Director Chuck Denney advised that although the course had record revenues of $1,373,044 in 2021, it was still not enough. to cover all expenses, which amounted to $1,863,714.
"As business increases, so do costs," Denney said. "More people are using the facility, impacting everything…everything from operations to maintenance adds up to increase our total spend."
Councilor Leatta Dahlhoff raised the question of whether there was a need to address the issue of reported net loss over the years.
Due to the influx of people entering and leaving the golf course, Denney said, staff has been their "biggest cost." Hourly and seasonal employees run most of their operations, and "reducing staff costs is next to impossible."
Denney noted that The Valley's popularity could also be attributed to its non-golf related activities. The valley has served as a park amid the need for outdoor spaces, especially during the pandemic. It serves as a venue for various special events in the city, such as fun races, fireworks and family festivals, movie nights and other outdoor activities.
Council member Angela Jefferson said that while she loves the place and its contribution to the community, she is concerned about the net loss of half a million dollars each year and asked if there were any a way to make partnerships to reduce expenses.
"It's an investment in the community, and I definitely see the benefits," Jefferson said. "But I just want to have this conversation."
Councilor Joan Cathey said highlighting the golf course's benefits to the community is more important than the city's funding for it.
"What we're doing with this isn't just golf. It's worth it. It's the kind of thing you want your city to do," Cathey said. "I just think we can't keep thinking only about the money. I know we have to pay our bills and we have to meet our obligations, but I would hate to see us change everything that this golf course is doing for some of the more of the positive things that people see Tumwater for."
City Administrator John Doan said some of the values ​​the golf course provides to the city could not be measured in dollars, especially its contribution to tourism, quality of life and even the flood mitigation in the city.