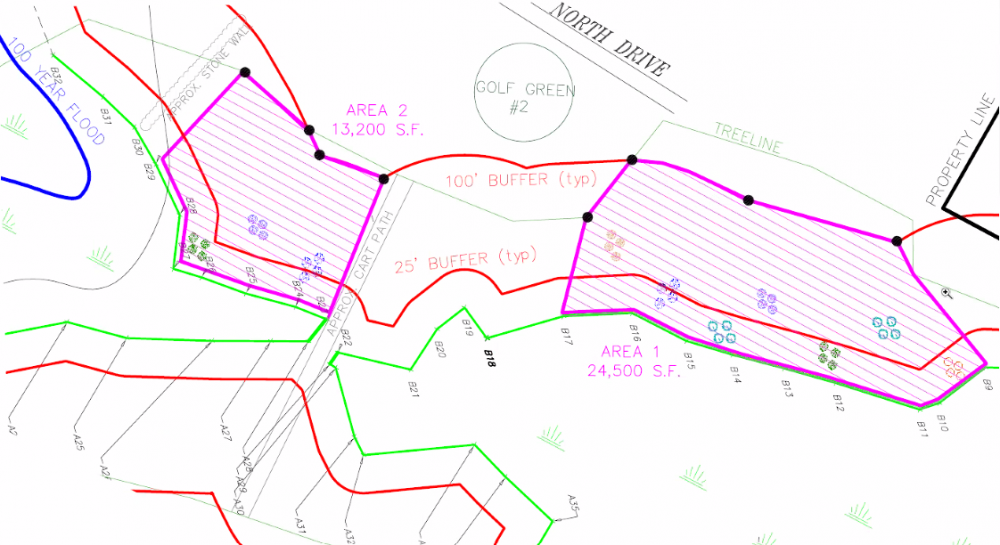 Marion Golf Club will make the final revisions to the restoration plan
MARION — The Marion Conservation Commission and the Marion Golf Club have taken steps to end a months-long dispute over an enforcement order issued to the club on June 9.
The execution order against the Marion Golf Club, who the club have called 'invalid' in an ongoing civil lawsuitasks the club to restore and rename two wetlands that were damaged during approved forestry work earlier this year.
The latest update to the restoration plan proposed by LEC Environmental Consultants at the September 14 meeting of the Marion Conservation Commission addresses concerns raised by the commission at its last meeting on August 24.
The new plan shows the square footage of areas that need to be restored and outlines a two-year restoration and monitoring schedule to ensure damaged areas regrow properly.
Brian Madden, a senior wildlife and wetlands scientist at LEC, explained that the monitoring plan is designed to eliminate subjectivity by requiring standardized assessments to judge how well plant life is regrowing in affected areas.
The revised plan also addressed a criticism imposed by the Chairman of the Conservation Commission, Jeff Doubrava, that the wetlands on the property must be clearly and permanently marked.
The plan now includes eight cedar posts placed at intervals along the boundaries of the protected areas that mark the beginning of the protected wetland.
However, according to commission member Shawn Walsh, there is still work to be done.
"We are 98%, maybe even 99% there," he said, adding that he would like to see an additional cedar marker placed on the right side of a golf cart path through tree line.
Walsh also requested that a plot's restoration area be slightly enlarged to reflect the area that was damaged and that signs reading "wetland buffer zone limit" be attached to each cedar post.
"This is an area that we will be monitoring for the next two years as the area revegetates," Walsh said. "I want to make sure there is no confusion on anyone's part as to which areas have been cut."
According to the conservation commission, it will likely have a formal vote on the revised restoration plan at its next meeting on September 28.
The pending civil lawsuit filed against the Marion Conservation Commission by the Marion Golf Club was not discussed at Wednesday night's meeting.
According to the filing, the Conservation Commission's enforcement order does not name the correct owner, which the club says is the Marion Harbor East Trust. The enforcement order states that the Marion Golf Club is the owner of the land, which the club disputes.
There were no further developments in the lawsuit, Marion Town administrator James McGrail said.