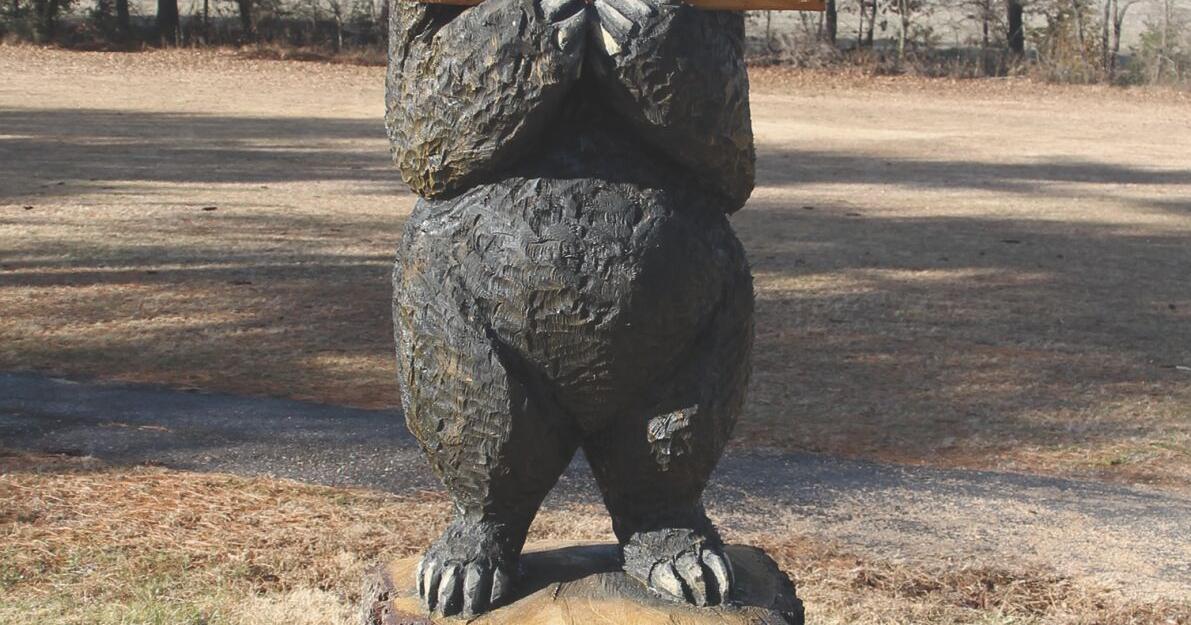 Oaks Country Club Unveils Golf Course Mascot | Business
MURRAY –An artist from Farmington has created a new bear woodcarving for the Oaks Country Club, and the club is accepting submissions to decide what its name will be.
Tim Thurmond, who has served as president of the Oaks Country Club for the past five years, said that after one of the golf course pines fell about two years ago, the club intended to remove it. Instead, one of the club's board members got a better idea.
"We got a call and they said the tree had been cut down in a windstorm," Thurmond said. "The way it was resting, it covered most of the fairway, so we started resecting the tree and removing the branches. We got to about 15 or 20 feet (in length), and the weight of the root ball was huge and pulled it up. He stayed there for a year and I thought we were going to shoot him. But then we thought that maybe we could turn a lemon into a lemonade, so we thought, "Why don't we try this (by turning it into a wood carving)?" ""
Thurmond said a board member knew Justin Driver, a Farmington resident who owns the chainsaw carving business Once Upon a Log. He said he was extremely impressed with the level of detail in Driver's final sculpture, from the fur and claws to his facial features.
"The board member said Justin was very talented, so we said, 'Sure, what have we got to lose? "" said Thurmond. "If it didn't work we could reduce it, but it worked and we're getting huge publicity. So now what we do is ask members and friends on our social media to help us nickname him.
Driver, who recently joined the country club, said he started chainsaw wood carving about seven years ago. About 95% of the job is done with a chainsaw and then he finishes the details with other tools, he said. He said the bear on the golf course took him about four hours to complete.
"Seven years ago it would have taken me about four weeks," Driver said. "It takes a lot of practice. "
Thurmond said the bear is near the 17th hole and a good shot would land in that general area, the bear is holding a sign that says "Nice shot." "
"You play 17 here, and a good drive would be in this area because now you're only 100 yards from the hole," Thurmond said. "Then when you turn around and look, you see this guy with personality and he's like, 'You just took a great picture! "
"I think this area will create a lot of new 'Kodak moments'. There will be a lot of pictures here and a lot of kids with smiles on their faces.