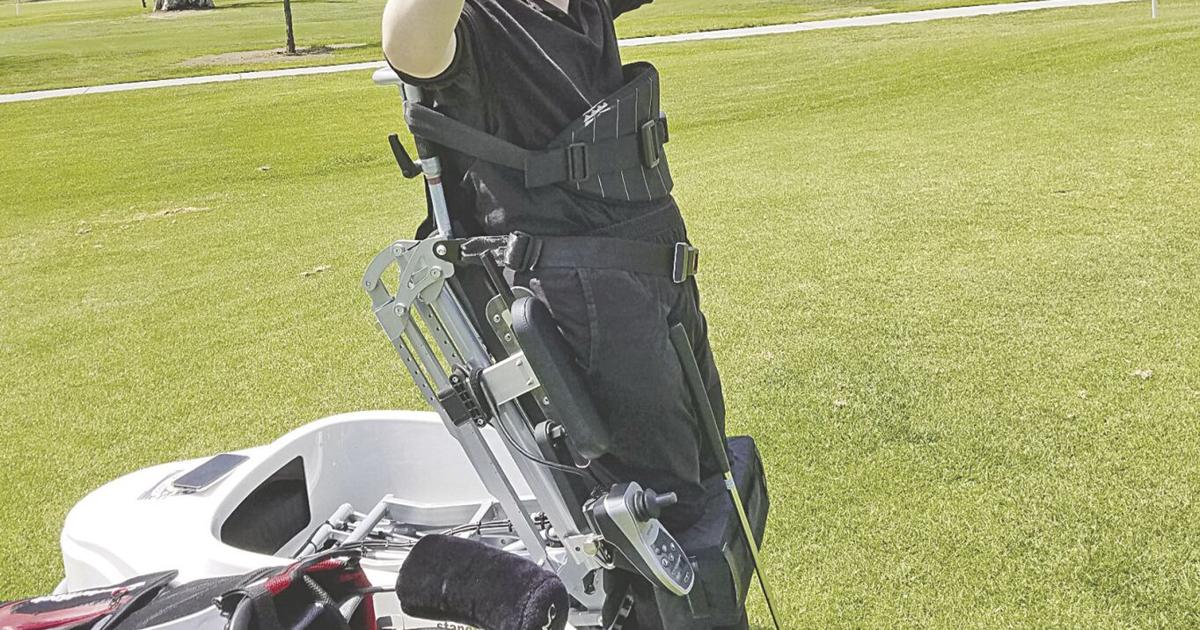 Patrick Kirsch: Inspiring Disabled Athletes on the Golf Course | Sports
By CHARLAINE CARMEN
For the Gazette of Records
Like many young people who graduated from college just before or during the pandemic, Patrick Kirsch has spent a lot of time over the past two years thinking about his future and charting a course for something "bigger than himself". Unlike many, however, Kirsch spends every day overcoming the added challenge of cerebral palsy. But it is this challenge that is at the heart of Kirsch's ambition to reach and inspire as many people as possible as an advocate for disability sports.
Kirsch, who was born with cerebral palsy in 1998, is an articulate young man with an infectious smile and an ease with people. He gets around using a walker, his arms supporting about 90% of his weight. He cannot walk or stand without help and has relied on the help of others his entire life to complete many activities of daily living.
Nonetheless, Patrick attended Redlands Public Schools as a regular student and is justifiably proud of the bachelor's degree in communications he earned at California State University, San Bernardino in March 2020.
Although Kirsch knows a thing or two about achieving goals against long odds, it may come as a surprise to learn that his passion in life is, first and foremost, golf. Even with the help of a cart and caddy, golf is a game that requires balance, fine motor skills and, at a minimum, the ability to stand up and hit a small ball with a long club.
The golf bug bit him in sixth grade, when he was encouraged by his teacher to try. His parents bought him lessons where he learned to putt while seated. He enjoyed being outdoors, participating in sport, and the sense of accomplishment as his game improved. He was hooked. He took time off from golf while in college, but as COVID restrictions eased earlier this year, he felt it was time to pursue his passion.
Kirsch and his parents showed up one day in March at the Oak Valley Golf Club in Beaumont. Not knowing what kind of reception they would receive, they asked if it would be possible for Kirsch to practice putting from a chair right next to the green. They were delighted when the answer was yes and how friendly and welcoming everyone was.
Since then, Kirsch has been a weekly fixture on the practice green, although walking on the grass with his walker is difficult. Golf instructor John Hartman took Kirsch under his wing and even gave him an autographed photo of pro golfer Jordan Spieth. Kirsch's mother, Becky, films her snaps. He then turns them into inspirational posts on his Instagram page, where he shares his golf course with over 900 followers, reaching 420,000 with his story since January.
Kirsch met Brad Breier in Oak Valley. Breier, an accomplished amateur golfer and full-time special education teacher, said it's not every day you see someone hitting a green from a chair. He approached to speak to Kirsch and learned that they lived five minutes apart in Redlands.
Breier said: "Patrick is as addicted to golf as I am, but he obviously had to overcome a lot with his handicap. He just wants to practice on the course. I share his love of the practice. Our friendship started by just trying to get him out more, doing what he loves.
Breier took Kirsch to Redlands Country Club to train a few times and introduced him to the people there. Kirsch also rode in the wagon with Brad during a tournament which he ended up winning, so they joke that Kirsch is his lucky charm. Breier plans to take Kirsch with him on an anniversary trip next year to see some of the iconic courses along 17-Mile Drive in Pebble Beach.
Of course, there's more to golf than just putting, and the family soon began looking for ways to help Kirsch develop his skills and independence. That's when they discovered the Paramobile, a scooter-like device specially modified to support anyone with an orthopedic disability. Kirsch has already tried several motorized scooters and wheelchairs, but none have worked for him because spasticity in his muscles prevented his feet from staying on the platform.
The Paramobile, with its patented standing device, was originally designed for disabled golfers, but can be used for other sports where standing is essential, and in everyday life. The Paramobile is promoted by the Stand Up and Play Foundation, whose mission is to provide people with reduced mobility the opportunity to stand up and participate in recreational and daily activities through access to Paramobiles.
Kirsch was able to try out a Paramobile on June 2 in Long Beach. It was a day of many firsts – getting up without using your hands, making a putt while standing, engaging with others at eye level, and hugging family while standing. Kirsch called the feelings of that day "indescribable," but the tears of joy said what words couldn't.
Now Kirsch's goal is to buy his own Paramobile (they sell for between $23,000 and $28,000), so he can one day play a full game of golf – all 18 holes – demonstrating this that people with disabilities can do. Stand Up and Play has made him an unofficial ambassador for the organization and he hopes to attend their clinics to inspire others as he raises money for the foundation.
No one has been more supportive of Kirsch and his journey than his parents, Becky and Tom, and his big sister, Marie Calvert and her husband Robert. Marie has always felt protective of her brother, wanting to help him live as "normal" a life as possible. Robert has seen Kirsch's face light up on the golf course, and he shares Marie's desire to make that independence possible for Patrick.
On August 12, Marie opened a Go Fund Me account to help raise funds for Patrick's Paramobile. Marie and Robert are also looking for other ways to help, including hosting a golf tournament in her name. They know that with the independence a paramobile would bring, Patrick will eventually be able to pursue even bigger dreams, like encouraging compliance with the Americans with Disabilities Act on golf courses. Becky and Tom are proud of Patrick and all that he has already accomplished. They want him to be able to continue making progress towards his goals and "to be as happy and independent as possible".
Ultimately, Patrick said he wanted to "change the narrative around people with disabilities. We are more than we seem.
He is living proof of that.